לונדון פאס - כרטיס לונדון - ללא תחבורה ציבורית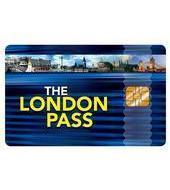 הפיקו את המירב מחופשתכם בלונדון!
רוצים לבקר בכל המוזיאונים המפורסמים והאטרקציות המובילות בלונדון וגם לחסוך המון זמן וכסף? קנו עכשיו את ה"לונדון פאס" וקבלו חוברת מידע מקיפה בחינם! ה"לונדון פאס" מציע לכם כניסה חופשית ליותר מ-10 מהאטרקציות הפופולריות ביותר בלונדון, גישה ליותר מ60 הצעות מיוחדות במוזיאונים, חנויות, מסעדות ואתרי בילוי נוספים. חסכו עד כ-£209 לאדם! טיילו חכם- קנו את .הלונדון פאס
מחיר מוזל לילדים בגילאים 5-15
נקודת איסוף:
בכדי לאסוף את הכרטיס, עליכם להמיר את השובר שתקבלו. בכדי להמיר את השובר, עליכם להגיע לכתובת הבאה:
The London Pass Redemption Desk, 11a Charing Cross Road London, WC2H 0EP
(Nearest Underground Station: Leicester Square, take Exit 1)
ה"לונדון פאס" כולל:
Historic Buildings in London: Tower of London - Westminster Abbey - St. Paul's Cathedral - Windsor Castle -Tower Bridge Exhibition - Hampton Court Palace - Kensington Palace - Royal Albert Hall - The Monument - Eton College - Benjamin Franklin House - Royal Mews - Jewel Tower - Eltham Palace - Wellington Arch - The Banqueting House - Apsley House - Wernher Collection at Ranger's House
Places of Interest: London Bridge Experience - Shakespeare's Globe Theatre Tour - London Zoo - HMS Belfast - British Music Experience - Kew Gardens - Chelsea Physic Garden - London Wetland Centre - Chislehurst Caves - BAPS Shri Swaminarayan Mandir
London Museums: Churchill War Rooms - Household Cavalry Museum - London Transport Museum - Wimbledon Lawn Tennis Museum - Twickenham Rugby Museum & Stadium Tour - Guards Museum - Design Museum London - The Jewish Museum - Florence Nightingale Museum - The Garden Museum - London Motor Museum - Handel House Museum - The Foundling Museum - Cartoon Museum - London Canal Museum - Pollock's Toy Museum - Firepower Royal Artillery Museum - Museum of Brands - Packaging and Advertising - The Old Operating Theatre Museum - Fan Museum
London Tours & Cruises: Thames River Boat Cruise - Wembley Stadium Tours - Jason's Original Canal Boat Trip - Arsenal Stadium Tour - London Bicycle Tour - Wimbledon Tour Experience - Chelsea FC Stadium Tour - Lord's Cricket Ground Tours - National Theatre Backstage Tours - Rock n Roll Walk
London Art Galleries: The Queen's Gallery - The Courtauld Gallery - Estorick Collection of Modern Italian Art
Leisure Activities: QUEENS Ice & Bowl - Curzon Soho - Curzon Mayfair - London Brass Rubbing Centre - Curzon - Chelsea - Renoir Cinema
Special offers: Bateaux London Restaurant Cruise - Beatles Store & It's Only Rock 'n' Roll - Brit Movie Tours - Bureau de Change London - City Secrets Walks - Crest of London - Crussh Juice Bars - Cucumba - Discount Theatre Tickets - Foyles Bookshop - French Brothers River Cruise - Gamerbase London - John Lewis, Liberty's Store - London Walks - M&M's World London - New Armouries Café - Original London Sightseeing Tour - Photo Walks of London - The Medieval Banquet - The Orangery - The Tiltyard Café - Walk-in BackRub - Westfield London - William Curley Chocolate
Special Offers at Attractions where public entry is free: Namco Funscape - National Portrait Gallery - Tate Modern London - National Gallery - Southwark Cathedral - National Maritime Museum - Royal Air Force Museum - All Hallows by the Tower
הכרטיס תקף לשנה ממועד הרכישה! קנו את כרטיסכם מראש וחסכו את ההמתנה בתורים הארוכים!
המחיר בקופה (לאחר עמידה בתור):
£
56,00

הכרטיסים ישלחו באימייל
השירות ניתן על ידי חברת טיקט-בר